What are Output Devices
An output device is any piece of computer hardware equipment used to communicate the results of data processing carried out by an information processing system (such as a computer) to the outside world.
Navigate through list of output devices given on the right side
CRT monitor
The CRT monitor creates a picture out of many rows or lines of tiny colored dots. The more lines of dots per inch, the higher and clearer the resolution. Therefore 1024 x 768 resolution will be sharper than 800 x 600 resolution because the former uses more lines creating a denser, more detailed picture. Higher resolutions are important for displaying the subtle detail of graphics. For text, resolution isn't as critical.
The CRT monitor comes in 15-inch to 21-inch sizes (38 — 53 cm) and larger, though the actual viewing screen is about 1 inch (2.5 cm) smaller than the rated size. Screens are measured diagonally from corner to corner, including the case.
CRT monitors are cheaper, widely available and are suitable for places where space is not a problem. Negatives of the CRT include radiation emission, high power consumption, weight and bulk.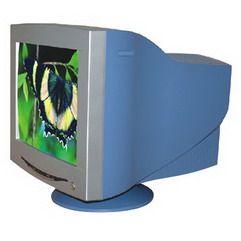 CRT monitor
Application
They are more suitable where more than one user may need to view screen simultaneously such as in design use, e.g. when several designers may need to offer suggestions on a prototype.
Though CRT monitors still hold a major market share as a display unit for computer but gradually they are becoming outdated and in the near future they will be replaced by TFT/LCD monitors.
TFT monitor
A TFT monitor uses Thin-Film Transistor technology for the ultimate LCD display. The benefit of a TFT monitor is a separate, tiny transistor for each pixel on the display. Because each transistor is so small, the amount of charge needed to control it is also small. This allows for very fast re-drawing of the display, as the image is re-painted or refreshed several times per second.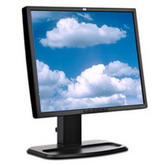 LCD monitor
Negatives of the TFT monitor it that if the transistor on the screen malfunctions there will be blank at that point on the screen. This is known as 'dead pixel'.
A TFT monitor delivers crisp text, vibrant color and an improved response time for multimedia applications such as gaming or video editing.
It is suitable for places where space is a constraint, for example a small office.
Multimedia Projector Applications such as training presentations, advertising presentations and home cinema. It displays data from computers, pictures from televisions and video/DVD recorders.
Laser printer
A laser printer is a common type of computer printer that rapidly produces high quality text and graphics on plain paper.
Positives are it prints faster, better quality, low noise, and cheaper cost per page
Negatives are it is comparatively costlier that a dot matrix or inkjet printer, maintenance is costly.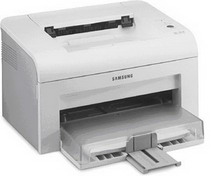 Laser Printer
Applications
Laser printers are most suitable for places which require
Low noise and low chemical emissions, e.g. most networked systems
Rapid, high quality and high volumes of output, e.g. most offices and schools.
Inkjet printer
An inkjet printer is any printer that places extremely small droplets of ink onto paper to create an image.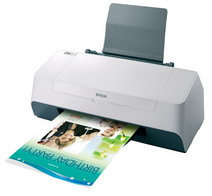 Inkjet Printer
Advantages
Compared to earlier consumer-oriented colour printers, inkjets have a number of advantages. They are quieter in operation than impact dot matrix or daisywheel printers.
They can print finer, smoother details and many consumer inkjets with photographic-quality printing are widely available.
There is no warm up time and lower cost per page (except when compared to laser printers).
Disadvantages
Inkjet printers may have a number of disadvantages:
The ink is often very expensive.
Many "intelligent" ink cartridges contain a microchip that communicates the estimated ink level to the printer; this may cause the printer to display an error message, or incorrectly inform the user that the ink cartridge is empty.
The lifetime of inkjet prints produced by inkjets using aqueous inks is limited; they will eventually fade and the color balance may change.
Because the ink used in most consumer inkjets is water-soluble, care must be taken with inkjet-printed documents to avoid even the smallest drop of water, which can cause severe "blurring" or "running." Similarly, water-based highlighter markers can blur inkjet-printed documents.
The very narrow inkjet nozzles are prone to clogging with dried ink.
They print slowly as compared to a laser printer.
Applications which require portability and low volume output and where changing cartridges is not an issue. e.g. small offices and stand alone systems.
Applications which require very high quality output and where speed is not an issue, e.g. digital camera applications.
Dot matrix printer
A dot matrix printer or impact matrix printer is a type of computer printer with a print head that runs back and forth, or in an up and down motion, on the page and prints by impact, striking an ink-soaked cloth ribbon against the paper, much like a typewriter.

dot matrix printer
Advantages
Dot matrix printers make carbon-copies.
These printers have one of the lowest printing costs per page.
They are able to use continuous paper rather than requiring individual sheets, making them useful for data logging.
They are good, reliable workhorses ideal for use in situations where printed content is more important than quality.
Disadvantages
Impact printers are usually noisy.
They can only print low resolution graphics, with limited colour performance, limited quality and comparatively low speed.
Single-sheet paper usually has to be wound in and aligned by hand, which is relatively inconvenient and time-consuming.

dot matrix example text
Application
Applications where noise is not an issue and copies have to made, e.g. industrial environments
Dot Matrix Printers are perfect for heavy-duty applications and multi-part forms dedicated printing. 
Examples include Car sales, repair companies and manufacturing sites.
Graph plotter
CAD applications, particularly where large printouts are required such as A0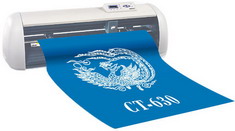 Graph plotter
Speakers
Any application which requires sound to be output such as multimedia presentations/websites including encyclopaedias. Applications that require musical output such as playing of musical CDs and DVD films.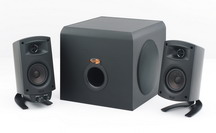 computer speakers