What is a Trade Union?
A trade union or labour union is an organization of workers who have banded together to achieve common goals in key areas such as wages, hours, and working conditions. The trade union, through its leadership, bargains with the employer on behalf of union members and negotiates labour contracts with employers. This may include the negotiation of wages, work rules, complaint procedures, rules governing hiring, firing and promotion of workers, benefits, workplace safety and policies.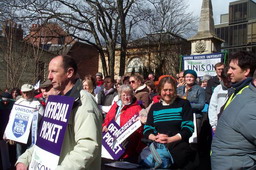 A rally of the trade union UNISON in Oxford during a strike Copyright © 2006 Kaihsu Tai
Find out more about Trade Unions in your country.
Click here to view an elaborate list of trade unions in different countries.