Commercial Banks
Commercial banks provide banking services to businesses and consumers. These are profit motivated businesses with the power to make loans and accept deposits from customers.
The name commercial bank was first used to indicate that the loans extended were short-term loans to businesses, though loans later were extended to consumers, governments, and other non-business institutions as well. Most commercial banks offer a variety of services to their customers, including savings deposits, safe-deposit boxes, and trust services.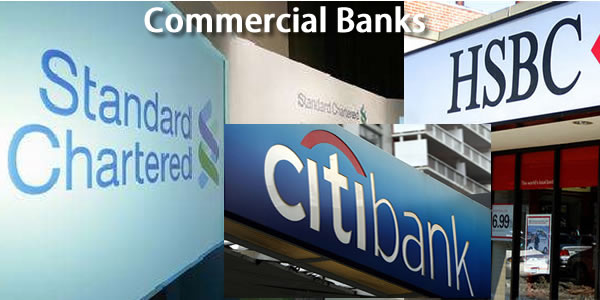 Functions of Commercial banks
Commercial banks are usually engaged in the following activities:
processing of payments by way of telegraphic transfer, EFTPOS, internet banking or other means
Issuing bank drafts and bank cheques.
accepting money on term deposit
lending money by way of overdraft, installment loan or otherwise
providing documentary and standby letter of credit, guarantees, performance bonds, securities underwriting commitments and other forms of off balance sheet exposures
safekeeping of documents and other items in safe deposit boxes
Currency exchange.
Sale, distribution or brokerage, with or without advice, of insurance, unit trusts and similar financial products as a "financial supermarket".