Process of New Product Development
Step 1-Idea Generation
Ideas for new products can be obtained from basic research using a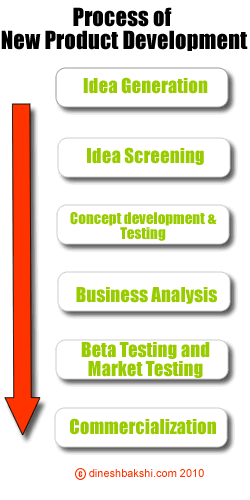 SWOT analysis (OPPORTUNITY ANALYSIS),
Market and consumer trends,
company's R&D department,
competitors,
focus groups,
employees,
salespeople,
corporate spies,
trade shows
Brainstorming
Step 2-Idea Screening
The object is to eliminate unsound concepts prior to devoting resources to them.
The screeners must ask at least three questions:
Will the customer in the target market benefit from the product?
What is the size and growth forecasts of the market segment/target market?
What is the current or expected competitive pressure for the product idea?
What are the industry sales and market trends the product idea is based on?
Is it technically feasible to manufacture the product?
Will the product be profitable when manufactured and delivered to the customer at the target price?
Step 3-Concept Development and Testing
Develop the marketing and engineering details
Who is the target market and who is the decision maker in the purchasing process?
What product features must the product incorporate?
What benefits will the product provide?
How will consumers react to the product?
How will the product be produced most cost effectively?
Prove feasibility through virtual computer aided rendering, and rapid prototyping
What will it cost to produce it?
Testing the Concept by asking a sample of prospective customers what they think of the idea.
Step 4-Business Analysis
The strategic management team has to think about the following issues:
Estimate likely selling price based upon competition and customer feedback
Estimate sales volume based upon size of market
Estimate profitability and breakeven point
Step 5-Beta Testing and Market Testing
Produce a physical prototype or mock-up
Test the product (and its packaging) in typical usage situations
Conduct focus group customer interviews or introduce at trade show
Make adjustments where necessary
Produce an initial run of the product and sell it in a test market area to determine customer acceptance
Step 6-Commercialization
If the test marketing stage has been successful the company will:
Launch the product (national or region by region)
Produce and place advertisements and other promotions
Fill the distribution pipeline with product
Critical path analysis is most useful at this stage
Process of Product Development (Simplified description)
A Product goes through a series of steps before it reaches the market:
It all starts with an idea. The idea needs to be further researched to see the feasibility of production. After this a market research might be conducted to find out potential demand. If the marketing department sees a potential market, a prototype is developed which is then tested in a limited market. Feedback is taken and if necessary changes are made to the product to suit it to the market. Once the product is finalised the product is launched onto the main market.
Watch a Video