Page 2 of 9
Input of data
Information regarding patients in entered into an information system (computer) using a computer keyboard. Common types of keyboards used in a hospital environment are:
Standard keyboard: keyboard with standard key arrangement and features.
Concept keyboard: keyboards with special arrangement of keys and are sued by disabled people or for special application. A concept keyboard is a flat-bed of contact switches covered by a flexible membrane. System and software designers can allocate on or more switches to respond in different ways.
With concept keyboards it is easy to manipulated and manage data or machinery and hence they are ideal for hospital environment. For example, controlling a CAT scan machine in a hospital is done using a concept keyboard specially designed for this purpose.
Once the data is entered into a computer, bar codes could be produced and pasted on the printouts of reports. This could save pharmacist having to retype patient or medicine details and could help in circumstances where repeat prescriptions are required. This is done through a bar code reader.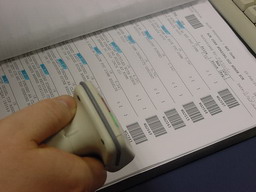 bar code scanner being used to access patient data
Doctors might need to record voice notes about observations and remarks about patients health. This is done using hand held devices such as a microphone. Speech recognitions software is used to recognize the voice and convert the word into text in a word processing program.