Ways of securing computer networks
Access authorization restricts

access to a computer to group of users through the use of authentication systems. These systems can protect either the whole computer - such as through an interactive logon screen - or individual services, such as an FTP server. There are many methods for identifying and authenticating users, such as passwords, identification cards, and, more recently, smart cards and biometric systems.

Anti-virus software

consists of computer programs that attempt to identify, thwart and eliminate computer viruses and other malicious software (malware).

Application with known security flaws should not be run.

Either leave it turned off until it can be patched or otherwise fixed, or delete it and replace it with some other application. Publicly known flaws are the main entry used by worms to automatically break into a system and then spread to other systems connected to it.

Backups

are a way of securing information; they are another copy of all the important computer files kept in another location. These files are kept on hard disks, CD-Rs, CD-RWs, and tapes. There is also a fourth option, which involves using one of the file hosting services that backs up files over the Internet for both business and individuals.

Encryption

is used to protect the message from the eyes of others. It can be done in several ways by switching the characters around, replacing characters with others, and even removing characters from the message. These have to be used in combination to make the encryption secure enough, that is to say, sufficiently difficult to crack.

Firewalls

are systems which help protect computers and computer networks from attack and subsequent intrusion by restricting the network traffic which can pass through them, based on a set of system administrator defined rules.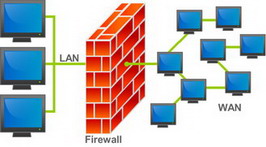 Honey pots

are computers that are either intentionally or unintentionally left vulnerable to attack by crackers. They can be used to catch crackers or fix vulnerabilities.

Intrusion-detection systems

can scan a network for people that are on the network but who should not be there or are doing things that they should not be doing, for example trying a lot of passwords to gain access to the network.

Pinging:

The ping application can be used by potential crackers to find if an IP address is reachable. If a cracker finds a computer they can try a port scan to detect and attack services on that computer.

Social engineering

awareness keeps employees aware of the dangers of social engineering and/or having a policy in place to prevent social engineering can reduce successful breaches of the network and servers.