Vision statement
Many organizations today develop a "vision statement" which answers the question, what do we want to become? Developing a vision statement is often considered the first step in strategic planning, preceding even development of a mission statement. Many vision statements are a single sentence. For example the vision statement of Stokes Eye Clinic in Florence, South Carolina, is "Our vision is to take care of your vision." The vision of the Institute of Management Accountants is "Global leadership in education, certification, and practice of management accounting and financial management."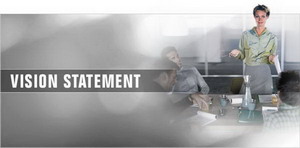 A lucid and clear vision lays down a foundation on which a sound mission statement can be built.A vision statement may apply to an entire company or to a single division of that company. Whether for all or part of an organization, the vision statement answers the question, "Where do we want to go?" Vision statement also answers the question "What do we want to become?" What you are doing when creating a vision statement is articulating your dreams and hopes for your business. It reminds you of what you are trying to build.
Mission Statement
Mission statements are "enduring statements of purpose that distinguish one business from other similar firms.
A mission statement identifies the scope of a firm's operations in product and market terms. It addresses the basic question that faces all strategists: What is our business? A clear mission statement describes the values and priorities of an organization. Developing a mission statement compels strategists to think about the nature and scope of present operations and to assess the potential attractiveness of future markets and activities. A mission statement broadly charts the future direction of an organization.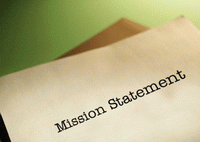 An example mission statement is provided below for Microsoft.
Microsoft's mission is to create software for the personal computer that empowers and enriches people in the workplace, at school and at home. Microsoft's early vision of a computer on every desk and in every home is coupled today with a strong commitment to Internet-related technologies that expand the power and reach of the PC and its users. As the world's leading software provider, Microsoft strives to produce innovative products that meet our customers' evolving needs.
AMCO corporation
Mission Statement
Amoco is a worldwide integrated petroleum and chemical company. We find and develop petroleum resources and provide qualify products and services for our customers. We conduct our business responsibly to achieve a superior financial return balanced with our long-term growth, benefiting shareholders and fulfilling our commitment to the community and the environment.
Vision Statement

Amoco will be as global business enterprise, recognized throughout the world as preeminent by employees, customer, competitors, investors and the public. We will be the standard by which other businesses measure their performance. Our hallmarks will be the innovation, initiative and teamwork of our people and our ability to anticipate and effectively respond to change and to create opportunity.
MISSION Vs VISION
Many organizations develop both vision and mission statements
Profit and vision are necessary to effectively motivate a workforce
Shared vision creates a commonality of interest
Some organization developed both mission statement and vision statement. Mission statement explains the current and present position and activities of a firm whereas mission statement explains the future objective and goals of the company. Mission statement answers the questions what is our business? The vision statement answer the question what do we want to become?